How to Construct a 5-Marla House?
 Estimated 5 Marla House Construction Cost in Pakistan 20222-23: Everyone wants their own place to call home, but not everyone has the means or the opportunity to make that dream a reality. It is not a simple task to construct a house from the ground up, and when the builder is not participating in the process, the task becomes much more challenging. This information was written for you if you're considering the prices of constructing 5 Marla houses but aren't sure what to do next. You are planning to build a 5-Marla home in Pakistan, but you have no clue how much it will cost you to build a 5-Marla house, are you? Are you still having a hard time evaluating and measuring all of the costs that were spent during the building of your home?
We've got you covered on this blog.
Before we go on to the next step, let's break the building of a home of the A category which is 5 marlas into two pieces.
1) The structure of a 5-marla home, which is grey in color.
2) The construction of home measuring five marlas
The covered area
It's important to have an accurate understanding of the whole area of the home before evaluating the complete expenditure. In square feet, the area equal to 5 marlas is 1,925. the covered space for each level is roughly 875 sq. ft. Two kitchens, three bedrooms, and two or more baths are standard in a 5-marla home.
What exactly is a Grey Structure?
5 Marla House Construction Cost: As the name implies, a "grey building" is a home with no decorative features other than its basic walls, roof, and plaster. The furniture in these sorts of homes is still being purchased. Electricity, sewage, windows, doors, and paint still need to be installed, but the grey buildings are ready for furniture. After the grey structure's basic home framework is finished, it will be possible to assess the costs of additional housing-related services.
Cost to Build the Grey Structure
 Here, we'll look at what it may cost to build a two-story home from the ground up. The grey structure provides an overall cost breakdown for constructing a 5-Marla house. Construction is difficult and costly because it requires many different elements and variables to come together. The grey building we provide is projected to have enough space for a five-Marla home over two stories. It's possible to build a two-story, 1,975-square-foot home on a plot of land of 5 marlas. The total square footage of the bottom level is 910 ft2. There is a covered space of 890 square feet on the ground level. Additionally, the second level has 175 square feet of roofed area. Bricks, gravel, sand, rebar, and pipe for plumbing and electrical wiring are among the most important materials for construction. When constructing a home, you also need to factor in the price of labour. Bricks, gravel, and sand cost a total of 899,050.
Construction Material For 5 Marla House:
Following construction materials will be required to build the grey structure of a 5 marla house:
Brick
Cement
Kassu
Rebar
Sand
Bajri
Safety grills
Bricks
Bricks are the primary material utilised in the construction of the house's structure. The quantity of bricks needed to create a 5-Marla apartment complex is around 100,000. Bricks come in many varieties, and their costs vary according to quality. In order to construct a sturdy structure, you must use only the finest bricks. Price per Brick Awwal (also known as A-class bricks) is presently at $12.5. Bricks cost 625,000+ PKR as a result.
Sand
Sand is needed to build the basements of the five Marla homes for sale. Ravi and Chenab sands are two of the most often utilised varieties in the building industry. It is used in the building process to create residential structures. Concrete sand is a material culled from riverbeds and beaches. When mined from a riverbed, the sand is a muted grey.
Construction projects often make use of Ravi Sand (ryt). The price per cubic foot is 27 rupees. The quantity of sand needed is 3,150 cubic feet. Ravi sand, then, would set you back 85,050.
When compared to Ravi sand, the price of Chenab sand (plsttr) is higher because of its perceived greater quality. The cost of the sand needed to construct the home is 40 rupees per cubic foot, and there would be a total need of 700 cubic yards. Therefore, the whole price of Chenab sand would be close to 30,000.
Gravel
The primary substructure of the flooring is made of crush or gravel. Crushes may be divided into two broad categories. Here is the Margalla crush, and this is the Sargodha crush. A 5 marla home will need around 900 cubic feet of Margalla crush for its foundation. Crushing in Margalla would cost a total of PKR 71,100 (79/cubic foot).
Sargodha gravel is utilised for the flooring. A grey construction of a 5 marla home will need around 600 cubic feet. The price of Sargodha gravel is PKR 72 per cubic foot, for a grand total of PKR 43,200. Rori is also needed and will cost roughly PKR 20,000.
Total cost for bricks, sand, crush, and rori= PKR 793,650.
Grills, gates, and Chougat steel
Many of the stairs in the 5-Marla grey house's construction will need to be made of steel. When putting in new windows or doors, for instance, this is a must. The estimated price of Chougat steel is 72,000 rupees. Grills of 16 gauge, needed for the safety-glazed windows, will set you back 79,200, while a steel gate of either 18 or 16 gauge would set you back 84,000.
The grand sum for the gate, grill, and Chougat steel comes to 235,200/.
Kassu
Kassu, which is made of mud and sand, is used to cover and fill the vacant land. Spending roughly PKR 50,000 on Kassu will provide you the materials you need to build the grey framework of a 5-marla home.
Cement
Building a 5-marla home will need around 525 sacks of cement. Flying Cement, Maple Leaf Cement, Bestway Cement, Lucky Cement, etc. are just a few of the many reputable cement manufacturers available today. Typically, one bag of cement would set you back roughly PKR 595. This calculation suggests that the whole price of cement would be roughly PKR 312,37.
Rebar
Steel rebar, or rebar, is another material essential to building a home. Sarya grade 60 is the standard recommendation. About 3 tonnes of Sarya, or 3000 kgs, is needed for the building of a 5 marla home. The entire price will be close to PKR 390,000 at the current rate of PKR 130 per tonne sarya.
Cement, Kassu, and Rebar came to a grand total of PKR 764,375.
Labour Cost
To get an idea of how much it will cost to build the grey structure of the 5 Marla home, you need to know how much it will cost to pay the workers' wages. In Pakistan, the cost of building materials has gone up. The wages of workers, on the other hand, haven't changed much. A 5 Marla house with two stories costs about 810,000.
Plumbing and Wiring
5 Marla House Construction Cost: In order to live comfortably, every home needs the installation of gas, water, electric, sewage, and drainage systems. It carries the necessary energy, water, or gas to every room in the house. The plumbing alone would cost about 150,000, while the electrical will add another 75,000 to the bill.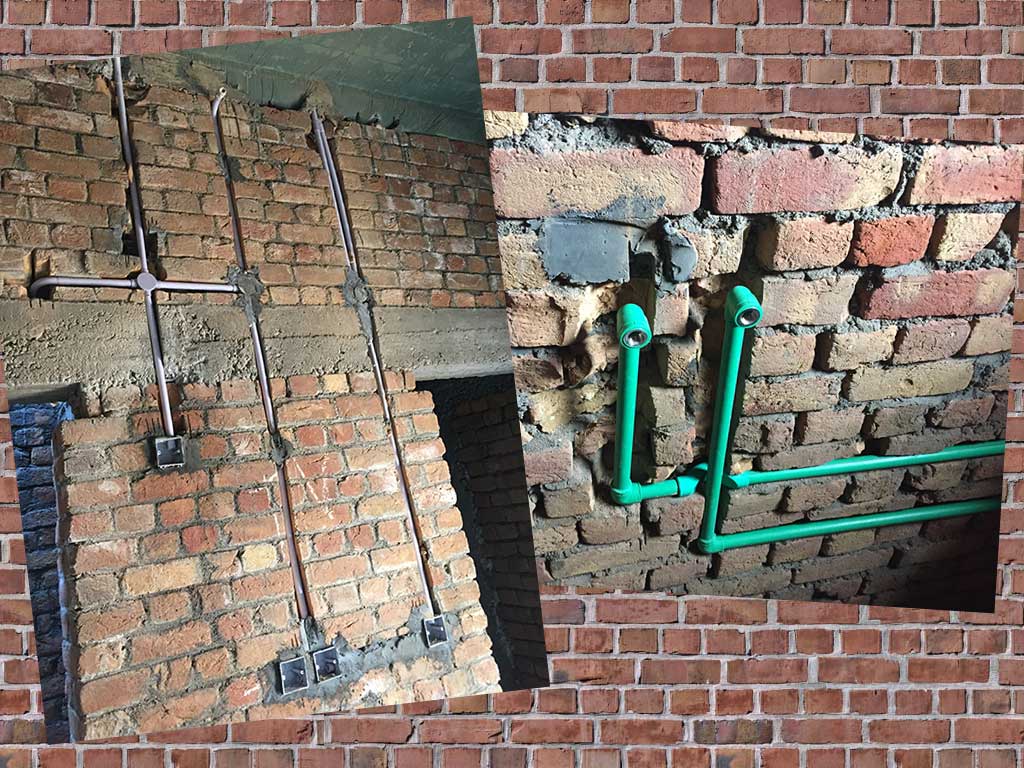 Cost total for electric and plumbing works 225,000
Additional Cost
In addition, you need to have an overhead tank installed. Creating a cement water tank with concrete walls is also part of the plan. In addition, a pre-construction termite control treatment should be implemented to eliminate any potential threats posed by termites.
All of this together will cost around PKR 35,000  Therefore, a grey construction of a 5 marla home is expected to cost PKR 2,670,900.
Finishing Cost of 5-Marla House
Once the basic grey structure of the home has been built, the following stage is to complete the dwelling. The finishing touches make the home appear complete. Tile/marble installation, electrical work, woodworking, and painting are all part of this category. Now that we've gone over how much it may cost to build the basic framework for a 5-marla home, it's time to get an overall look at the inside.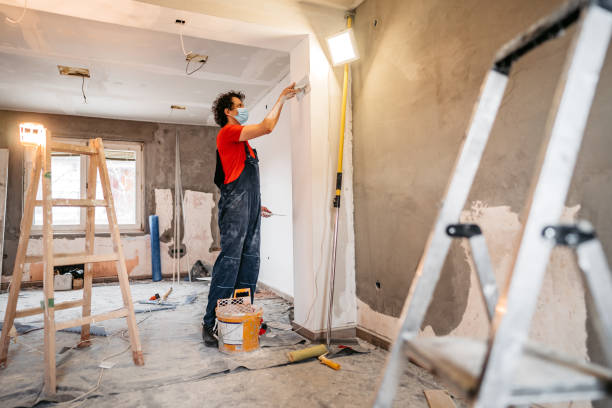 Tiles and Marbles
Tiles and marble are popular choices for the floors in A-class homes because of their practicality and beauty. For most applications, high-quality tiles are the ideal option, and manufacturers like Master Tiles provide some of the finest tiles available.
About 160 tiles, not including the bathrooms, patio, and garage, are needed for a 5 marla home. At a rate of PKR 21,000 per tile, the cost to tile the floors of a 5-marla home is calculated to be about PKR 336,000. Bathroom tiles are priced differently due to their square metre nature. The cost to tile the bathrooms is estimated at PKR 102,375. This is based on the per tile pricing of PKR 1,575 per square metre. There will be a need for about 65 master tiles. Eighteen tiles are needed to finish the patio. The price per square metre remains the same as PKR 1575. Tile flooring for the terrace would run a total of PKR 28,350. Using the same percentage, the cost to tile the garage would be PKR 39,375 for the requisite 25 tiles. Installation labour costs must be calculated in addition to the tile cost. A tile cutter is not included in the laborer's services, but he will install the tiles in a precise manner. Approximately PKR 140,000 is the estimated cost of labour to tile a 5-marla house. Marble is also needed for the staircase and the kitchen shelf. Approximately PKR 75,000 will be needed to install a marble staircase in a 5 marla home. There should be around PKR 30,000 set aside for kitchen storage shelves and counter space.
Totaling PKR 741,100, the price of marble and tiles.
Electric Work
Switchboards
15 OPAL push buttons and switchboards are needed. The price for one is 850 PKR. To purchase the necessary switchboards will cost you PKR 13,500.
Power Plugs
18 power plugs and sockets are required. Each cost around PKR 500. The total cost will be around PKR 9,000.
Accessories for the Bathroom and Kitchen
Putting in the final touches in the bathroom and kitchen is the most crucial component of any home renovation. This adds the finishing touch. It is obligatory to equip both kitchens in a 5-Marla, two-story home with the standard fare, such as a stove, oven, sink, and hood. Approximately PKR 51,000 is needed for two vent hoods to be installed in kitchens. It will cost around PKR 32,100 for two kitchen sinks. All of the culinary gadgets together would set you back around PKR 130 000.
Painting and Ceiling
Painting finishes a home. The painting follows installing the switchboard and light fittings. First, paint a base coat. After a foundation coat, further paint coats are added. Painting expenses include both supplies and labour. A 5-Marla, 2-story home will cost roughly PKR 300,000. Exterior options include Rockwall or marble chips. Clean and plaster the wall first. A base coat is then applied using white sand and acrylic. The base coat gives wall strength. 5 Marla home base coat costs roughly PKR 30,000.
The estimated cost of the entire painting and ceiling= PKR 753,750.
Woodwork
Any home may benefit from the addition of fine woodwork. It's not only pretty to look at; it serves a number of useful purposes as well. Complete the woodwork on your home while it is still being built for optimal results. Doing so will prevent any unnecessary expenses down the road. Make sure you choose high-quality wood as your primary material. The woodwork of the home consists of built-in storage and kitchen cabinets. The woodwork in homes often consists of semi-solid plywood. A total of around PKR 150,000 will be needed to pay for the wardrobes, fittings, and other woodwork in the property. A separate LCD rack will set you back another PKR 40,000 to 50,000.
Windows and Mirrors
For windows, both glass and aluminum are required. Aluminum will cost up to 175,000 and mirrors will cost around PKR 20,000. Additionally, to install a staircase railing you will have to spare PKR 65,000.
Total finishing cost of a 5 Marla = PKR 2,844,500
After considering every possible building expense, we've calculated that a 5-Marla home would set you back around PKR 5,515,400 to build. To all your building questions, it provides the solution. In this site, you may find out all you need to know about building, such as the current pricing of building supplies in Pakistan. The calculator makes it easy to plan for the costs associated with building a home.
Looking For Better Residential Apartment or Construction on Installment Plan in Bahria Town Karachi:  Contact Us