Kingdom Valley Islamabad Pakistan
 An incredible housing community, Kingdom Valley Islamabad Pakistan, may be found close to the M-2 Lahore Islamabad Motorway. The crown jewel of the Kingdom Group's real estate development efforts in Kingdom Valley.
The Naya Pakistan Housing Scheme is helping to build the Kingdom Valley. The developers make every effort to provide great expertise and service at prices that are affordable. Both the owner and the developer have an excellent reputation within the real estate sector. This home development was constructed by a staff that had a very high level of expertise and did it with the greatest care. The team is comprised of a variety of professionals, including engineers, architects, builders, planners, and managers. The crew is now toiling away at a masterwork they are determined to complete.This Project has residential, commercial and executive blocks,it includes villas and farmhouses at affordable rates
The following is a list of some of the incredible advantages that living in DreamsNex affords its citizens.
●    Secure & Gated Community
Kingdom Valley Islamabad is a gated, walled neighbourhood. Also, it's a lovely, well-equipped, safe, and secure area where families may reside. The developer provides security guards and CCTV to protect the housing complex.
●    Educational Institutes
It offers an outstanding, local curriculum. Close closeness will benefit residents.
Global School System, Superior College of Girls Chakri Campus, and Usman Institute of Higher studies.
Medical facilities like hospitals and clinics have access to cutting-edge equipment and employ highly trained medical professionals like doctors and nurses.
Both adults and children need time for leisure activities. The residents of these low-cost apartments have access to a private amusement park. The amusement park has thrilling rides, swings, and slides for guests to enjoy.
Provision of Services on a Continuous Basis
Uninterrupted water, gas, and electricity are fantastic. It's open 24/7. Garbage disposal and sewage are effective. In addition, subsurface electrical wiring prevents load shedding.
Residential Plots
Residential plots in Kingdom Valley are available in the following sizes:
5 Marla
7 Marla
8 Marla
10 Marla
1 Kanal
2 Kanal
Payment Plan
We have established a name for ourselves in the market as a leading company thanks to the exceptional quality of our construction goods and the services that are linked with them. In addition to this, we are renowned for offering our clients with the most dependable and user-friendly payment plan that is even remotely feasible.
We have a terrific and varied strategy for the down payment for each inventory that is tailored to the region that is covered. Our customers will have access to a variety of alternatives, from which they will be able to choose the solutions that are most suited to meet their individual needs. The following is a list of the Inventory found in Kingdom valley:
Down payment for 5 Marla-PKR 125,000
Down payment for 8 Marla- PKR 185,000
Down Payment for 10 Marla-PKR 215,000
Down Payment for 1 Kanal-PKR 350,000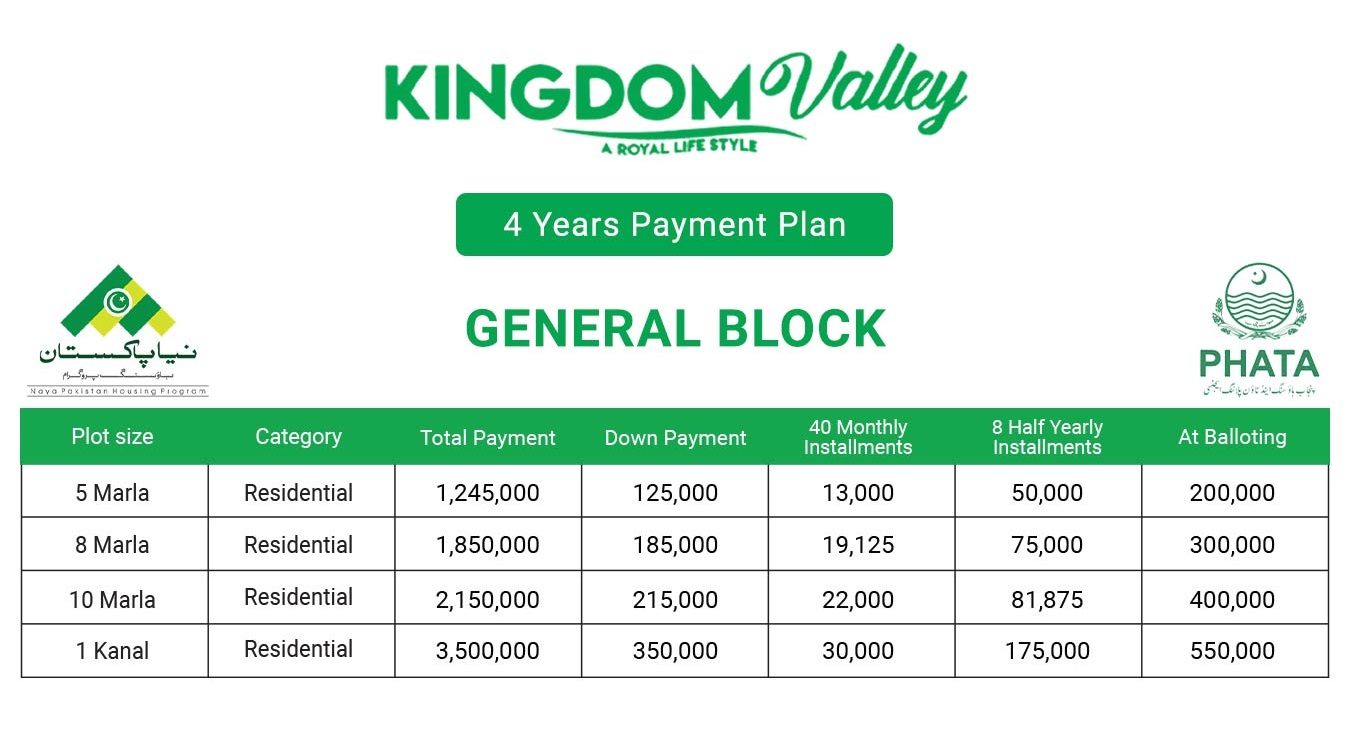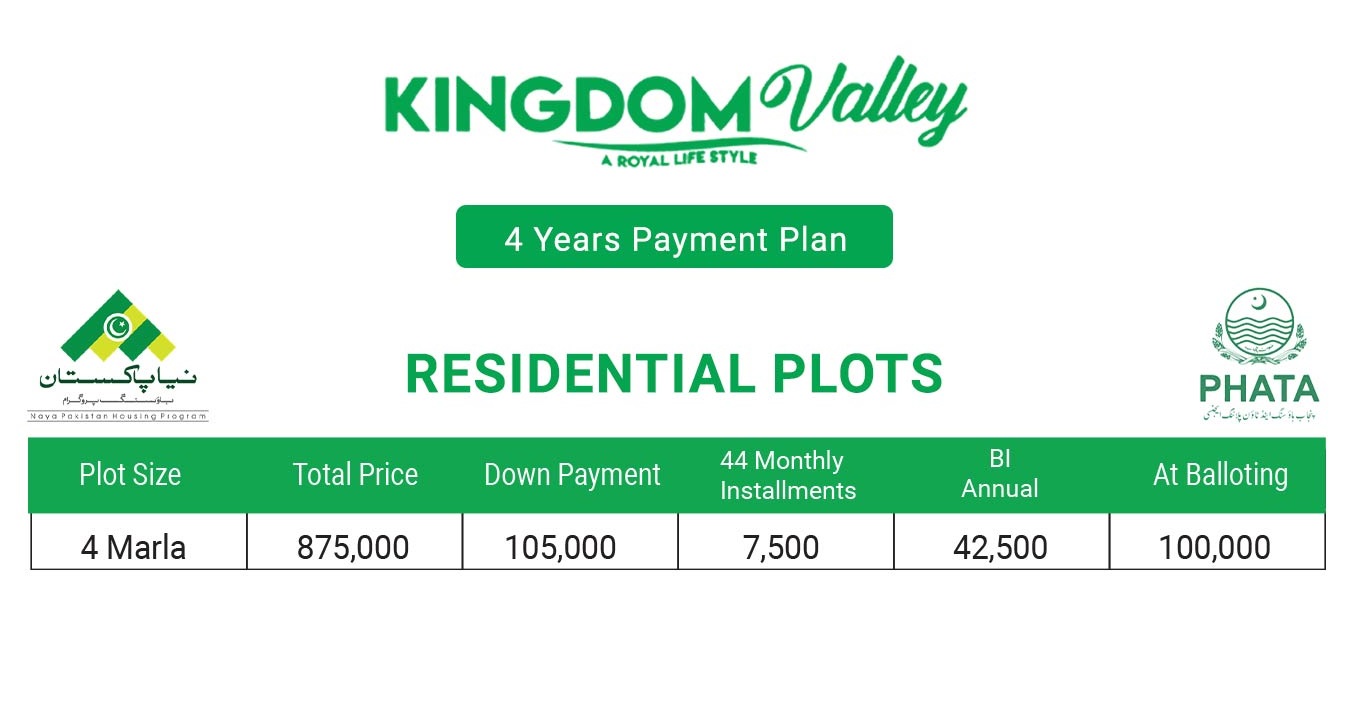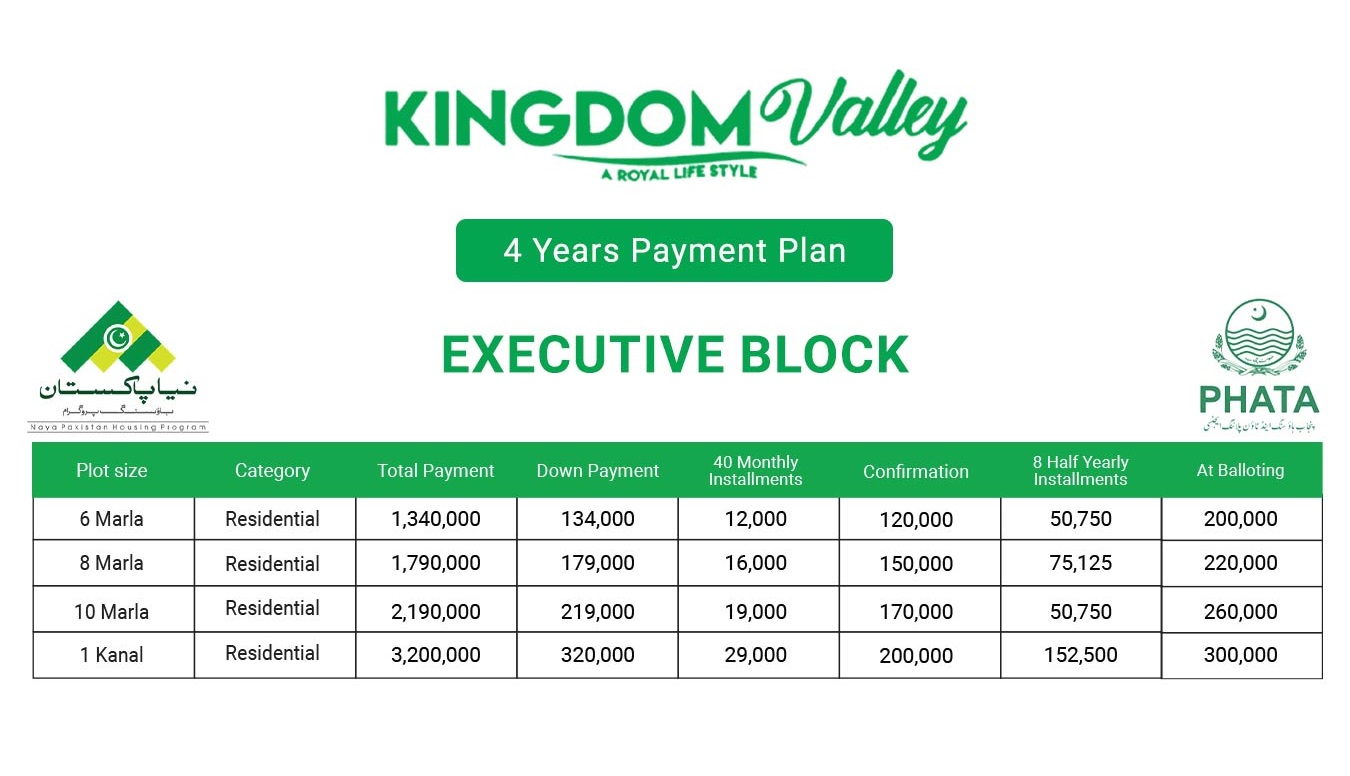 Legal Status
The Punjab Housing and Town Planning Agency (PHATA) has issued a "No Objection Certificate" for the Kingdom Valley development, which can be seen in the document referenced by the number DRG/PHATA/2176-2021. In addition to that, it is a component of the Naya Pakistan Housing Program. The NOC gives its stamp of approval to the project's suitability for financial investment. Also, assuming the plan is authorized, experts anticipate an increase in future plot costs due to the rising value of the land.
Read More About Best Investment Opportunity in Bahria Town Karachi DX Smart Residency